Following the success of the SexMog car badge, I have asked Julian Jankowski at Jancraft (who supplies MSCC with regalia) to convert the design into embroidery. Here are scans of his design (on a dark green baize material) for a single colour Morgan and a two tone Morgan. The design is four inches in diameter.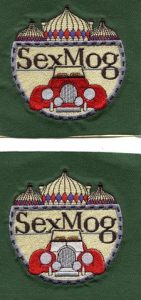 If you wish to adorn yourself in such a garment then you should order directly from Jancraft. Click here to go to their website and then click on 'Catalogue'. You will find an enormous range of clothing, there's even ladies and gents underwear – now there's a disturbing thought!
The range is so vast that I defy anyone to make a choice. I have thus asked Julian for recommendations of his most popular quality items. This list is attached as SEXMOG price list.pdf. and Word document (doc). You may, of course, choose different garments from the comprehensive catalogue if you so wish.
The embroidered design is considered too large for a baseball cap and Julian advises me that if it is to applied to a T shirt then it should be a superior quality T shirt, as per attached list, or it will sag!
You may specify the colour of the Morgan (single colour or two tone) but be aware that Julian will not understand esoteric colours like 'Nissan Ninja Puce' or 'Audi Aubergine Surprise.' He needs clear instructions like: wings in British Racing Green, bonnet in Post box Red, Oxford Blue, Mustard Yellow etc..
You may not alter any of the other colours: the cream background or the red and blue diamonds on the minarets.
You may also have your Mog's registration number embroidered under the SexMog design at no additional expense. If you wish for further writing, perhaps your Mog's nickname, it will be charged at 25p per character.
I have attached a SexMog Regalia order form in pdf. and doc. format. Please use one of these to place your order with Jancraft.
Cheers
Alan Sharpe
sexmog-jancraft-price-list   pdf
sexmog-jancraft-price-list   doc