This is the opportunity for members to show off their cars. We'll start, however, with Wendy's beautiful Roadster, which has been having an exciting time.
OUR MORGANS 1
.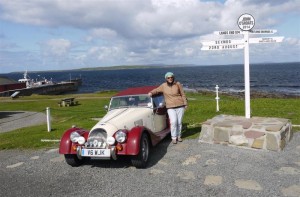 August 2014. About 2:30 at the famous sign post at John O'Groats. This is privately owned by a local photo shop. You have to pay to have your photo taken here
About half an hour later. The Fiat Panda pulled out straight in front of me. Clear road, bright day. no other cars involved, she just didn't look properly. I was doing 45 mph when I saw her. Emergency brakes slowed us to a 30 mph collision – enough to roll the Fiat over
This is what the underneath of a Fiat Panda looks like. A passing motorist is holding the driver's door open while (unseen on the other side) Alan is lifting out the driver's dog, then the driver herself – all uninjured.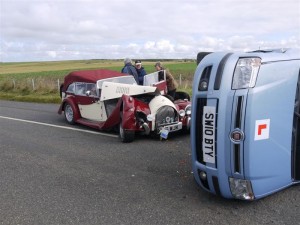 Another view of the crash scene. The 'L' plate was for when she teaches her son to drive. Think he might need a professional!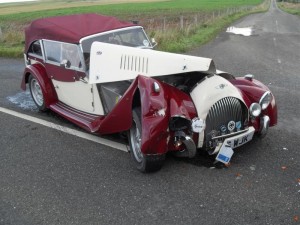 One very crumpled Morgan. That's what crumple zones are for!
Injuries: Wendy – taken on spinal board to local hospital but no serious damage: Frances – severe bruising from seat belt but nothing serious; Alan – nothing at the time but moderate whiplash developed later.
In the workshop at BHM. Note the crumpled chassis and the enormous dent in the exhaust manifold
At BHM. Wings off showing the irreparable damage to the chassis – it'll need a new one
New chassis and crosshead have arrived. Engine, gearbox and back axle will be transferred.
Work on its way.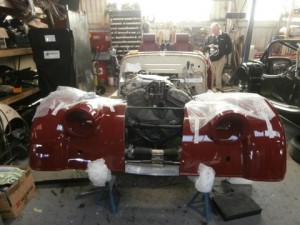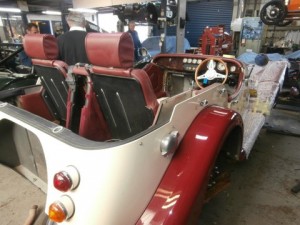 August 2015. At last! With great help from Keith Jackson and all at Brands Hatch Morgans, my four seater Roadster is back on the road.
V6 WJK has had a new chassis, radiator, wings, cross-head and cowl and looks as good as the day I collected it from BHM.
Taking advantage of its dismantled condition, Keith has managed to raise the engine (notorious for its low ground clearance) by half an inch and has fitted a sump guard.
Wendy
OUR MORGANS 2
Paul and Vikki Hawthorn pictured with their 1969 4/4 at the Jack and Jill, Clayton. This car was purchased by Paul in 1974 and has been in constant use ever since, having now covered over 300,000 miles which you can tell by the well-worn look the car has.
Paul and Vikki also own the Plus 8 which they purchased in 2010 to keep the old 4/4 company. The Plus 8 is used now for all the continental trips.
In August 2018 they purchased a 1959 Plus 4 to complete the set.
---