Sunday Noggin – The Sportsman, Goddards Green 11 March 2018
Date:
11/03/2018
Time:
12:00 pm - 3:00 pm
Location:
Categories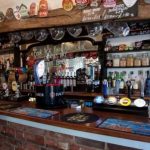 Our March lunch will be at a new venue, the Sportsman in Goddards Green. Formally 2 pubs and dating from 1800 when it was recorded as a beer house, the Sportsman is now noted for its fine cuisine and real ales including my habitual favourite, Harveys.
We have been asked to pre-order and an abbreviated menu is displayed below. Please let us have your menu choices by Sunday 25th.February.
MENU
Roasted loin of sussex pork with chestnut & charcoal stuffing £12.75
8 hour slow roasted sirloin of british beef £14.50
Roast chicken wrapped in streaky bacon with chestnut and charcoal stuffing £12.75
Homemade nut roast with redcurrent & wild mushroom reduction (v) £11.75
Beer battered cod tail fillet, triple cooked fat chips, fresh lemon with
Mushy peas / garden peas (specify) £12.75
Geoffrey and Anita