Sunday Noggin – The Greyhound Pub , Cocking Causeway, Midhurst, GU29 9QH
Date:
08/04/2018
Time:
12:00 pm - 3:00 pm
Location:
Categories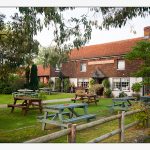 In April we will be going to another new venue, the Greyhound near Midhurst. This country freehouse is set at the foot of the South Downs National Park on the A286 heading south towards Goodwood and Chichester. They pride themselves on providing good locally-sourced seasonal food from local suppliers.
We are sorry that you have been bombarded with requests for menu choices recently but we have to ask you to make another choice from the selection below.
Roast Leg of Pork £11.95
Roast Beef £11.95
Nut Roast with Mushroom Sauce £10.95
Cod Fish and Chips with Peas £11.95
Ham, Egg and Chips £9.95
Bangers and Mash £10.50
Please let us know whether you will be attending together with your menu choices by Sunday 1st.April.
Geoffrey and Anita