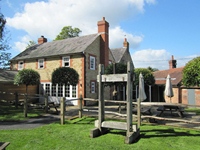 Lunch-time noggin at The Half Moon, The Street, Warninglid RH17 5TR. Meet 12.00 for 1.00.
Careful of the potholes in the car park!
We were looking at the possibility of a walk beforehand but the paths are so waterlogged we feel this would be better deferred until another time.
Please let us know as soon as possible if you intend to come so that we can let the pub know numbers.